Dominica, Guadelope and Martinique Flags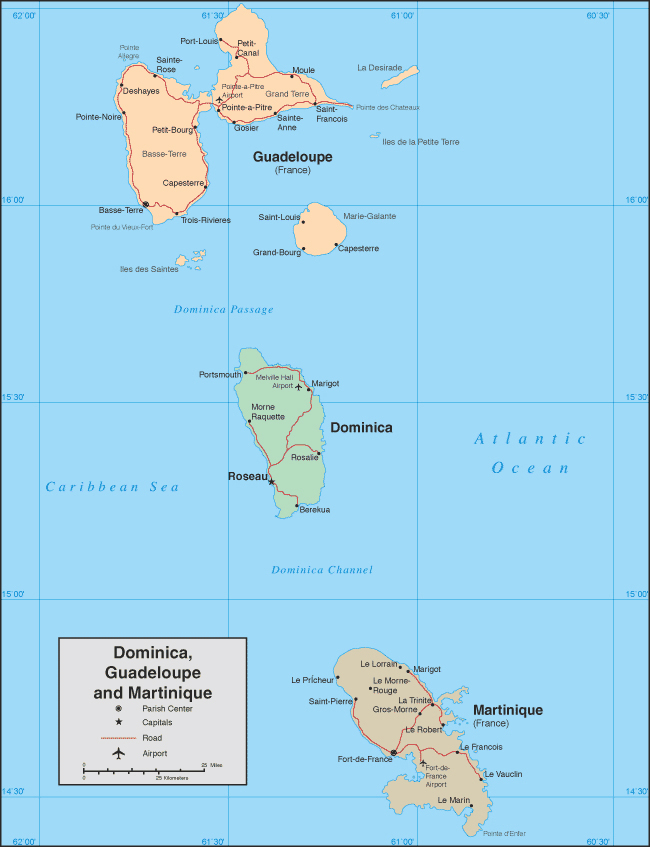 Dominica is an Island in the eastern Caribbean, between Guadeloupe and Martinique, the largest of the Windward Islands, with the Atlantic Ocean to the east and the Caribbean Sea to the west.
Overseas department and administrative region of France (2005 est. pop. 449,000), 687 sq mi (1,779 sq km), in the Leeward Islands, West Indies. The department comprises the islands of Basse-Terre (Guadeloupe proper) and Grande-Terre, and the dependencies of Marie-Galante and Îles des Saintes to the south, La Désirade to the east, and Saint-Barthélemy ( "Saint Barts" ) and the northern half of Saint Martin to the north.Basse-Terre, on the island of the same name, is Guadeloupe's capital; Pointe-à-Pitre, on Grande-Terre, is the chief port and commercial center.
Martinique is an overseas department and administrative region of France (2005 est. pop. 433,000), 425 sq mi (1,101 sq km), in the Windward Islands, West Indies