Sir Laurence Olivier directed and starred in his 1948 film production of Hamlet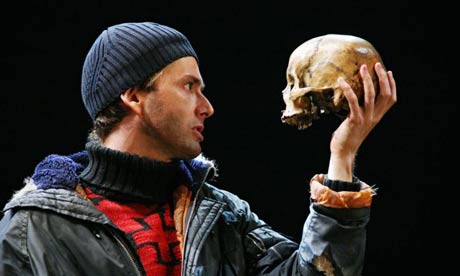 photo credit: Ellie Kurttz/RSC
David Tennant in the 2008 production of Hamlet directed by Greg Doran for the Royal Shakespeare Company.
Theatrical performances of Shakespeare's plays are unique and ephemeral experiences for the lucky few in the audience. However, versions of Shakespeare's plays are often filmed and preserved for posterity either as filmed stage performances or cinematic adaptations of the plays. The Phillips Library has a collection of videos including Shakespearean performances and documentaries. The series by BBC Television in association with Time-Life is housed in the Library and is cataloged by the individual titles.
Check the "Shakespeare on Film" page in this guide for links to locating Shakespeare's works on film.